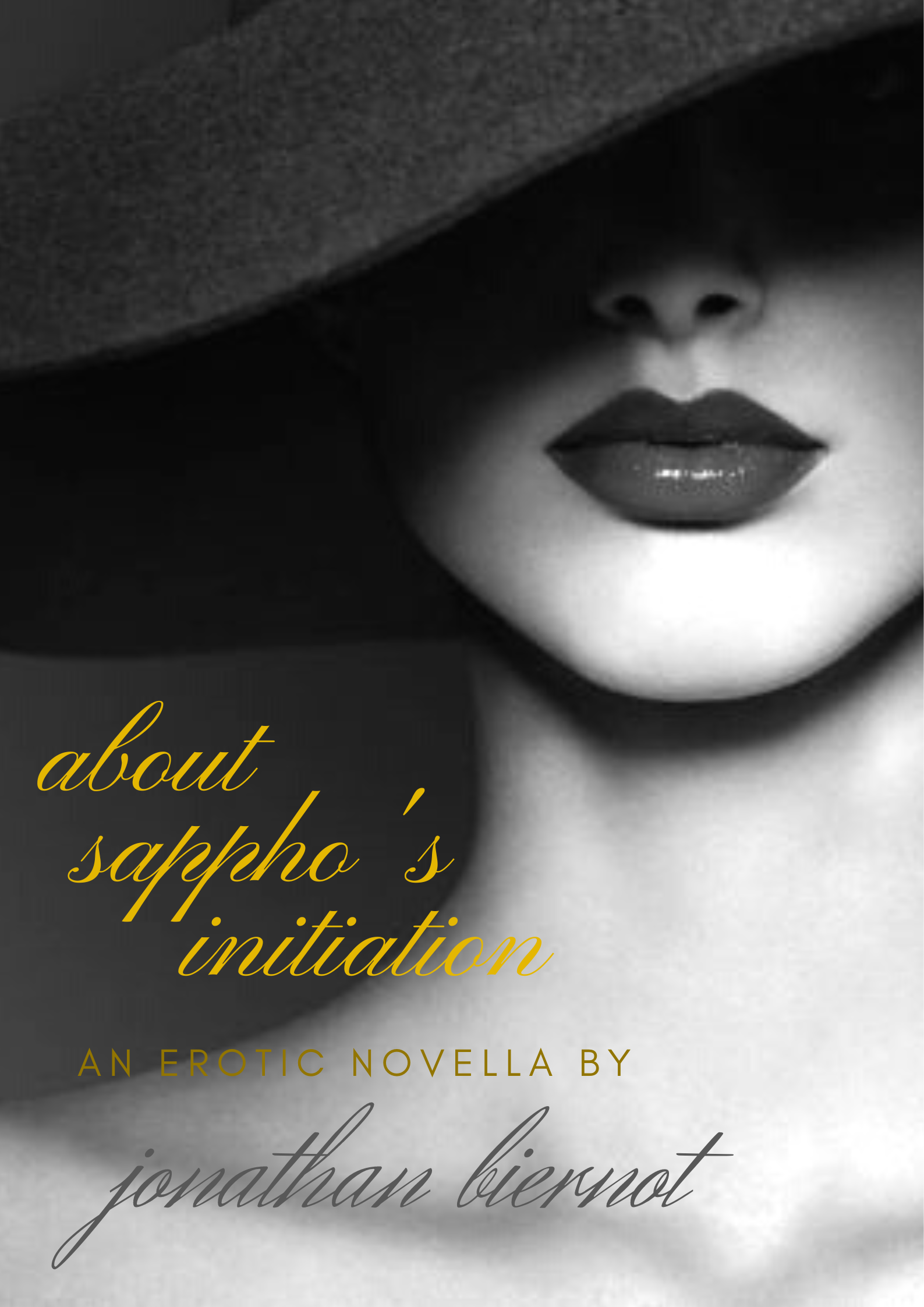 About Sappho's Initiation: An Erotic Novella: The Sappho Trilogy, Book One
Author : Jonathan Biernot
Lastest Chapter: Chapter Thirteen
Views : 23962
Chapter One
  Chapter One
  A Black Tie Dinner By The Bridge
  This was not really a black tie dinner because I was wearing tropical evening wear: a white jacket, black dress trousers and, actually, no tie at all but, instead, an open-necked, dark blue cotton shirt!
  Sappho was wearing black and white.
  Her mini-skirt was made from black lamb's leather and it had a cute, but short, slit up one side; her blouse was a billowing white Ralph Lauren Oxford cotton shirt that belonged to me; it was open at the neck with three or four buttons undone that just showed the curve of her breasts. The sleeves were rolled up to her mid-forearms, but, because her limbs were so slender, it had been possible to button the cuffs and keep the sleeves secure.
  The rest of her outfit included black high heels and hold-ups but no underwear and, this evening, she was wearing long dangling earrings; her hair was flowing over her shoulders and her fragrance was subtle but stunningly erotic.
  I'd chosen a French restaurant in a hotel by the river with a view from the dining room over a new millennium bridge and we'd been able to reserve a south-facing window seat. However, because of a kink in the river, it actually faced south-west, so our table was lit by the sunset.
  I knew Jean-Pierre, the Maître D', who showed us to our table and, using his prior knowledge, he cocked his head and I nodded. Shortly afterwards, two large gin and tonics arrived, together with a litre bottle of sparkling mineral water, some bread, olives and an olive-oil-vinegar mix along with two menus. He thanked us and left but kept half an eye on me.
  Typically, the starters here were pretty poor but the entrées and desserts were just the opposite and, with the restaurant being French, the wines were very good and well kept. We wanted to order but also, to check-out one or two things with Jean-Pierre, so, I looked at him for a moment longer than usual and he came over. I asked about his specials and he started running off a whole list of things that weren't on the menu.
  Sappho, who is multi-lingual, realised this guy was the real deal and was, actually, an Afro-Frenchman, and, suddenly, she spoke to him in his native tongue. Clearly this took him by surprise, because he paused slightly, but it was equally apparent it delighted him, and further, something that endeared us to this young restaurateur.
  He began to engage with Sappho, who was equally well-engaged, and, as was his habit, crouched down on one knee to our eye-level to continue his conversation, mostly with her, in French. It was early in the evening because, rather than drink or dine, or, drink and dine, later, I prefer to get both out of the way and leave space for other eventualities.
  So, although we weren't the only customers in the restaurant, it was by no means full or, even, busy. Nevertheless, although there were people sitting nearby, Jean-Pierre left these to his staff and carried on chatting with my amour, in French, without really involving me.
  I was comfortable with this because the body language was neutral and I'd noticed that Sappho had her legs crossed in that peculiar way of hers. Although there was interest in her eyes there was no threat of competition so it was alright to let things go.
  Jean-Pierre, as ever socially aware of my position, kept me in his peripheral vision but their conversation was safe and it continued fluently.
  As their exchange slowed, but before it came to an end, I spoke softly to Jean-Pierre, but in such a way that Sappho could hear me, and suggested that if he put his hand on her thigh and slid it under her skirt there'd be a surprise waiting for him.
  Sappho blanched but controlled her reaction and he, too, was slightly taken aback because he was keenly aware he was in a difficult position. I knew this but my gentle smile encouraged him and, turning towards my woman, gave her a tiny wink.
  The chairs had armrests and they were well upholstered along with the seats and backs and, as I reassured her, she gripped her chair and, simultaneously, uncrossed her legs and placed both feet on the floor. Now it was Jean-Pierre's turn: would he or wouldn't he?
  JP, as he's known, gathered his thoughts and, sensing my reassurance that he was on solid ground, turned and looked Sappho right in the eye: Sappho returned his gaze.
  His right arm slid under the tablecloth and towards her lap; he seemed composed and she seemed more in control of her mild alarm. I didn't see his right hand go onto her right thigh, of course, but could tell a connection had been made by watching Sappho.
  Afterwards, she told me he let it rest there until she gave him some space by opening a slight gap between her legs and then his fingers wrapped over her thigh and slipped further, upwards, onwards and along her limb.
  JP moved his hand slowly under her skirt then onto her thigh; Sappho opened a little bit more and he just kept right-on going under her skirt, over her hold-ups and onto the flesh. Then his fingers found more flesh, no panties and no pubes until, all at once; she gasped, ever so slightly, and sucked in a small amount of air. JP's eyes never left his customer but his head moved almost imperceptibly and, at first, she was looking from him to me and back again but then, steadily and with more ease, she focused only on him.
  Still, she seemed unruffled until, spontaneously, her mouth opened and she had to work hard to stifle a cry. JP, as I was to learn, had inserted two fingers into her pussy and was pressing his thumb onto her clit while massaging the flesh in between. He was moving his thumb but not his fingers and Sappho was on the verge of going wild.
  The erotic atmosphere generated in a public place by a stranger introducing himself into her private parts so soon and so spontaneously after a first encounter was electric and then, suddenly, she jerked forward but, because she was holding the chair so tightly, and had the gumption to expect a violent reaction, she moved only a couple of inches.
  Even so, there was an audible yelp, which she disguised as a cough. No one could see what was happening under the table, and nor did anyone suspect anything, but I satisfied any curiosity by replying to her cough with one of my own. JP, meanwhile, held his ground.
  He let her down gently and kept his hand there for a few more moments until she nodded to him and he withdrew slowly, wiping his fingers, as she relayed later, on her stockings as his hand moved down her thigh.
  "Well done," I said, "are you free later on?"
  "I have to close up and do a stock take, Sir, do you have something in mind?"
  I smiled and nodded in Sappho's direction. Catching my look, she blushed but JP got the idea then, almost snapping to attention, said, "Yes, sir, I'm free!"
  We hadn't forgotten why we were there, so we ordered, but I recommended missing the starters and going straight into the main courses. Sappho had grilled tuna with a light sauce and I took steak, but this time, we shared a chilled bottle of Chablis.
  As soon as JP left the table, Sappho looked over at me and asked, "What've you got in mind? Are you going to let him fuck me?"
  "No; I'm going to help him and we're both going to fuck you!"
  "Oh! Ohhh, that'll be something new!" Then a few faux protestations followed but I could tell she was intrigued; this was something she'd held out for and it was something she wasn't going to miss by 'having a headache'!
  One thing was becoming clear: the more involved we became in our physical shenanigans the more comfortable we were emotionally. The trust was growing because every time it got put to the test it passed with distinction. However, this time was going to be a much bigger step: albeit a step in the same direction.
  Sappho was a fine woman and she was not going to be wasted. We looked on this as her making up for lost time and she was, at last, realising her sexual potential, enjoying it and doing so without guilt. It was her entitlement.
  JP called me just after midnight and told me he had settled up and arranged for his staff to finish closing. For our part, we'd arranged a taxi to take us the few miles to my home.
  Since leaving JP, Sappho had been contemplative but showed no sign of reluctance. We'd found another bar, taken a few more drinks and, because it was a warm evening, had walked along the quayside, arm in arm.
  "Are you ok?"
  "Yes, and, despite my quietness, I want this. I really want it to happen."
  It was just as well because she was in for a lot of attention.
  Just after midnight, JP came out of the hotel and walked to the taxi; he got in the back which meant that Sappho was seated between us. Instinctively, she reached out and placed her hands on our thighs and moved them smoothly to our groins. I don't know what she found to her left but on her right, where I was sitting, there was quite a bulge.
  Nothing spectacular happened in the car because it was a minicab: in other words, it was an ordinary saloon car and the driver was 'interested'.
  Things changed as soon as we got indoors.
  The first thing JP did was take Sappho in his arms and kiss her full on the lips, then he slipped the Oxford shirt over her shoulders which released her tits. He pinched her nipples and bit them. I came around behind her: kissed her neck, cupped her breasts and nuzzled her ears to give her some comfort as JP returned to kiss her mouth and place his hands on her hips. She responded by backing her ass into me; a move that told me she was OK.
  So far, all of this was topside and I wanted to keep it that way until we were abed, so I reached my arms around Sappho and JP, pulled us all together and said, "Shall we?" whilst steering us towards the bedroom.
  My bed is super-king-sized with plenty of room for three people to sleep alongside but, tonight, that wasn't the idea. The idea was for us to lie in a pile with Sappho sandwiched between us and penetrated by two dicks.
  We all wanted to get down to business so it wasn't expected that Sappho should undress in any special way, but we men disrobed quickly, enabling us to watch as Sappho's tits wobbled when she removed her shirt, slipped off her leather mini skirt and shoes before sliding off her hold-ups.
  She was naked now and stood before us unashamedly. JP was impressed with her narrow waist, her smooth mound, her firm, pert tits, her shapely ass and, as she continued to build her confidence, Sappho took hold of her nipples and teased us by pulling apart her breasts. Then she pirouetted in a full circle with her boobies still splayed-out on her fingers and thumbs.
  She was ready now and it was clear she was also willing and able. There was no doubt about her resolve nor was there any doubt about ours.
  I took the lead, held her hand and laid her on the bed before kissing her reassuringly as I climbed onto her and slid inside what was, now, a very slippery and welcoming love-hole. I came quickly, while JP watched, and kissed her again before rolling off. JP took my place immediately and did the same thing so she was already flooded with spunk before the intensity began.
  I asked JP to lie on the bed and Sappho to kneel over and mount him and, as they did so, it exposed her back passage. It was easy to tongue it, finger it and fuck it and this introduced her to her first DP, or at least, one version of it.
  DP is shorthand for 'double penetration' and, although the sensation took her breath away, she nipped her buttocks and held me in, firmly, before I exploded into her backside.
  Whatever the novels say, it is hard for two men to fuck one woman actively. Usually, one player has to remain inert while the other is motive. I started as the active party while JP held onto Sappho and it wasn't long before my condom was full.
  Thereafter, JP began bouncing Sappho up and down on his prick and she was beginning to go into a paroxysm of emotional delight blended with, and inspired by, sheer and pure physical pleasure. As this was happening I came around to her head and slipped myself into her mouth. She took me and sucked hard on my softened dick; making it hard again.
  Sappho and I had agreed that her mouth and ass were out of bounds for 'others' and we were to honour this, but that still left plenty of scope for variation. Maybe because JP was French, and of African descent, his tool was working well inside Sappho and she was squealing now. I was out of her mouth and she was bouncing up and down like a yo-yo and doing most of the work. This pleased me; it pleased JP and it seemed to be pleasing Sappho who, it seemed, couldn't get enough cock.
  We needed to keep rehydrating and there were plenty of bottles of cool, still mineral water from which we drank often; especially Sappho whose exercise was, well, more than athletic! But we all needed to maintain our electrolytic balance and, for this, water is the key.
  There was to be no rest for her and, precious little for us, so, after JP had spent himself again, and we'd each drunk almost half a litre of water, I lay on the bed and Sappho mounted me. This time she lay with her back to me and I slid, more easily now, into her backside which left her pussy open for my handsome Afro-French colleague. He was a proud man and he admired his manhood; believing that women should see what they were going to get. So, he knelt astride Sappho and manhandled himself in full view.
  I could feel her arousal growing by the way she transmitted her tensions to my knob and, although JP knew what was in, and what was out of, bounds, that didn't stop him coming all over her tits and smearing it around her breast before taking one of her mammaries into his mouth and sucking on it. This blew Sappho's mind, and it did mine no good either, but it facilitated another shot into the condom embedded in Sappho's ass.
  There was more to come, so to speak, and although I'd ejaculated there was not much of it but I kept myself where I was, which left the field of play open for JP. He used it well and got hard again very quickly by continuing to work his rod in a most arousing fashion. When he was satisfied, he decided it was time to pass on his state to a spunk-covered Sappho by plunging himself straight into the centre of her web.
  Then he became active. He made a series of long strokes in and almost out of her passage and this went on for ages. It occurred to me that he must have had two of those curly-wurly cereal-things for breakfast because his energy seemed limitless. Sappho was taking it and showing no signs of distress: far from it, she was riding as though on the crest of a wave and he was on his knees, now, leaning over her body, sucking her tits and resting his hands on her shoulders.
  His pumping was incessant, but there was almost no jizzum left in either of us; even so, we were still hard, so, provided Sappho could take it, we could deliver, and the scene was set for a marathon session.
  I'd put out a tube of lubricant and encouraged JP and Sappho to use it after every bout of penetration. We did this to mitigate the friction that might be painful tomorrow but which could cut short our coupling for tonight.
  It was important for Sappho to enjoy her first multiple experience and have no regrets and this included another version of DP: so I explained things before slipping myself into her pussy from behind. I was still lying on my back and Sappho was still lying on top of me, in fact, there was no change of position except for a change in my point of entry.
  JP had stopped posing and showing off his dick and he started to slide into her, but found it difficult. Naturally, he would find it awkward because it was the wrong approach; so I withdrew to allow him to go in first because it's much easier to accommodate a second penis by squeezing it between the first phallus and the perineum and this is what we did.
  Soon, I was nestled-in alongside him and Sappho was full. It proved to be quite a stretch for her but, considerably less-so than giving birth, which she'd done before. Nevertheless it took a while for her to accustom to the two penises penetrating her gash at the same time.
  Then the pounding began.
  JP pulled back and pushed forward; I was hard but inert yet we were all working together. Intuitively, I felt Sappho's need for some reassurance and this meant a kiss: so I let go her breasts, twisted her head and stuck my tongue between her lips. She was OK and sucked on it the way I'd treated her nipple and then the moaning began from within her depths.
  Of course, being a man, I had no idea what was happening inside of Sappho, physically, or the effects of that on her psyche, her spiritual or emotional states. However, for the moment, only the physical experience was occupying her mind because her body was convulsing as the shagging went on and on and the penetration got deeper and deeper and the intensity grew and grew.
  This session came mid-way through her initiation and it was the first of her many multiple liaisons. It marked the point of inflexion to the wilder, longer, deeper and more intense encounters that would follow. However, they could only come after Sappho had been prepared in ways that would transform her gradually, empathically and with all the tenderness deserving of her trust.
  The progressive phases of her induction are described in the next few, short chapters, after which exemplars of her more exotic pursuits are resumed.
About Sappho's Initiation: An Erotic Novella: The Sappho Trilogy, Book One Description
"She faced the bed; raised her skirt at the front above her knees; lifted one knee onto the mattress before placing the other alongside. Then, she hauled up the back of her skirt, rucked it up around her waist to expose her backside, before spreading her knees and leaning forward on her palms, holding her head high, concaving her spine and pushingout her breasts like the prow of a boat. Finally, she gave the coupdegrace: Sappho, knowing fullwell what to expect, uttered the words; "I'm ready, Sir!" A story of how a chance encounter changes the life of a beautiful, and very vanilla young housewife, as she begins to seek out things that, at one time, would have appalled her. The unsuspecting Sappho is initiated as a submissive and encouraged from one experience to another until she's finally addicted to cock. Never once does Sappho say, 'No'! Never once does she hesitate and, soon, a new destiny emerges when she becomes a magnet for powerful men....
Who is About Sappho's Initiation: An Erotic Novella: The Sappho Trilogy, Book One Author?
Author: Jonathan Biernot
About Sappho's Initiation: An Erotic Novella: The Sappho Trilogy, Book One Catalog
Read About Sappho's Initiation: An Erotic Novella: The Sappho Trilogy, Book One full episode
Read About Sappho's Initiation: An Erotic Novella: The Sappho Trilogy, Book One All Chapters
Download About Sappho's Initiation: An Erotic Novella: The Sappho Trilogy, Book One PDF
YOU MAY ALSO LIKE
New Release Novels